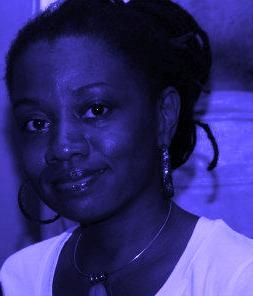 You'll probably never meet a woman as funky as this girl is. She came by it honest; born and raised in America's "Funk Capital," Ohio, journalist Mildred "Ill Mil" Fallen is the charismatic hostess behind Deeper than Atlantis: Diggin' In Da Crates. Indubitably, she's a soulful wayfarer guiding listeners on a therapeutic music journey. Her lifelong relationship with music, first as a consumer, collector and now, keeper of legacies, is what makes her hour on Soulpublicradio.com a unique experience that keeps bringing listeners back.
Mesmerized by LPs revolving on the turntable, as a child, Ill Mil spent evenings sitting on the floor of her Mom's three-room apartment, admiring enigmatic album covers from Graham Central Station, Earth Wind & Fire and Billy Cobham. Reading liner notes sharpened her cognitive skills and made her want to pore through music biographies to continue learning. Over time, her curiosity led her to explore deeper into the music that provided the soundtrack to her post-Civil Rights/post-Soul upbringing.
In 2011, Ill Mil conceived Deeper than Atlantis after taking classes to become a radio producer at Media Bridges in Cincinnati. In 2012, she joined Soulpublicradio.com, expanding to an audience reaching all coasts as well as overseas. The best compliment Ill Mil gets from listeners? "People call my show 'edutainment,' Ill Mil says. "I always get somebody writing to me to say, 'Wow, you put me on to something I didn't know.'" Unrestrained by genre or era, her goal is to keep listeners rocking and learning, and also to eventually publish a work that highlights Cincinnati's contributions to soul and funk.
Inspired by esteemed music journalists and historians like Nelson George, Barry Michael Cooper, Cynthia Horner, radio personality, Lee Bailey, and the late Phyl Garland, Ill Mil is destined to do important preservationist work in her field. Follow Ill Mil here:
On Air Every Saturday 9AM - 10am (pst), Sunday 9-10AM (pst).